Vintage 70s Seattle Mariners Baseball Logo 2" Pin Button Ex Ticket Seahawks Ofr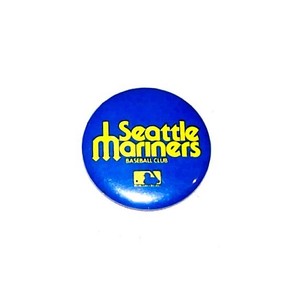 ---
This item comes with a 100% satisfaction guarantee or all money will be refunded.  Including shipping both ways.   No questions asked. U.S. Priority Mail Shipping Cost:  FREEWe never decline a fair Offer and often accept the very first offer we receive

Vintage 70s Seattle Mariners Baseball Logo 2" Pin Button Ex  We're serious about the offer thing, too.  This item comes with a 100% satisfaction guarantee,  Nothing less is acceptable.   '79, with the old school logos.   Not worn, sharp, and clean.     Please take a moment and view our store by tapping 'seller's other items' below.

Please take a moment to view our 'First Offer' Sales today @ SellingthecollectionsJust Tap Or Click HereWere here to deal so just fire off an offer... we're really easy and have been on since it's inception 20+ years ago.Everything must be sold in relatively short order!We're here to sell things and serve you @ sellingthecollectionsWe are liquidating an entire household of merchandise after the sudden passing of a member of our family.   This is a sixty year, high end accumulation of collectibles and antiques, most of which haven't been on the market in over 30 years.   This sale will include all the items we've been holding back over the years, thing from estate sales, purchases from and a myriad of other sources. We always combine shipping charges if you win more than one of our auctions.US SHIPPING - $4.00International bidders are always welcome and shipping rates will be calculated at the close of the transactionUSPS Insurance at exact cost per $100 coverage.We accept PayPal.  Other methods available upon request. We never charge a handling fee, package every item with the utmost care and, if humanly possible, will ship your item the day after payment is received.Thank you in advance for your consideration!